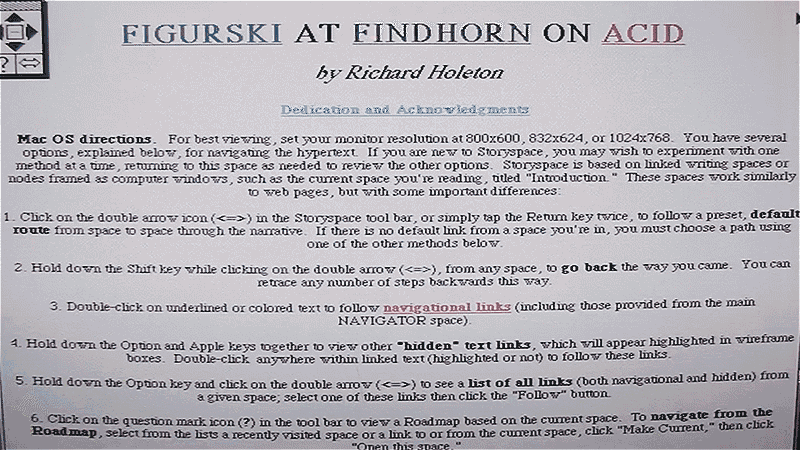 "Frank 'Many-Pens' Figurski, paroled after serving six years for killing Professor Quentin Kingsley, is on a mission. Having discovered what is apparently a seventeenth-century mechanical pig washed up on the beach at Findhorn Park, Frank embarks on a quest to determine the pig's authenticity. But it won't be easy, because Frank isn't the only one obsessed with antique porcine contraptions, and he's on acid.

Will Frank beat The No-Hands Cup Flipper and Fatima Michelle Vieuchanger to the punch, and definitively differentiate the original pig from the forgeries? Or will Frank lose his way in endless trailer parks, desert strip malls and spaceships, allowing his competitors to bring home all the bacon?

Holeton's hypertext mixes numerology, science fiction, Brit prog rock, eighteenth-century robotics, Boy Scouts and classic TV with a charming cadre of unreliable (and occasionally delusional) narrators, dishing up a comic, frantic narrative that recalls Monty Python in its absurdity and erudition." -- From Eastgate Systems, Inc.
1 COPY IN THE NEXT
The Richard Holeton Collection
Published in 2001 by Holeton, Richard.
There are four copies in the collection. One disc's label features an image of "the World Famous Ralph the Swimming Pig." This is the version submitted for the 2001 ELO Competition. This copy's media format is CD-ROM. This copy was given to the Electronic Literature Lab by Richard Holeton in Spring 2019.
PUBLICATION TYPE
E-lit Object